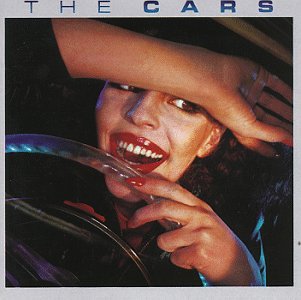 The Cars eponymous debut album has always been one of my favorites, even though I discovered it years after it had been released. It's one of those albums that when you listen to it, you forget how many of the songs were hits and how good they all are: "Good Times Roll," "My Best Friend's Girl," "Just What I Needed," "You're All I've Got Tonight," "Bye Bye Love." In my opinion it stands as one of the best debut albums in rock and roll, along with Boston, Appetite for Destruction and Pearl Jam's Ten.
Here's the whole song on YouTube — the solo starts at 1:58.
I picked this solo for two reasons. First, it's got a completely different style and sound than the other solos I've been working on — a Chet Atkins twang-a-billy sound that George Harrison ripped off in the Beatle's "I Will," and which was lifted again by Elliot Easton for this song. It's just a great, different and difficult solo, which makes it perfect for this project.
Second, I have a good story to go with it. I went to see the Cars in concert in 1983 as a Junior in High School. They played at Austin's Southpark Meadows Outdoor Amphitheater, which was basically a large open pasture with a stage at one end and a 10-foot high wooden fence around it. It is now a gigantic strip-mall. I could wax nostalgic about the loss of one of Austin's landmark music venues, but the truth is that it really wasn't a great venue. I went to three shows there and don't really remember enjoying any of them. It's probably more entertaining as a mega retail center, with ten or twelve restaurants and a theater.
Regarding the concert, well, there's no way to sugar coat this… the Cars sucked in concert. If you want proof, check out this YouTube video. Not only were they pretty lifeless on stage, the sound mixing was awful and their vocal harmonies were not on key. All in all it would have been a very unmemorable night, except for who I went to the concert with.
I went with my best friend Andy Hartsock and his girlfriend at the time, Kathy. She, coincidentally, had been briefly, and very recently, my girlfriend. So I got to experience the full frontal irony of listening to the Cars playing "My Best Friend's Girl" with my best friend and his girl, who in truth used to be mine. And the Cars sucked, which was like salt in the wound.
Andy and Kathy broke up shortly after that, and she and I got back together and stayed together for about three years, so although I remember being hurt and lonely at the concert, it all worked out. And Andy is still my best friend.
Here's a picture of Easton's signature Gretsch hollow-body guitar. It's got those two twangy humbuckers and a very distinctive sound. I don't have access to a Gretsch, so I'm borrowing a Fender Telecaster from my buddy Dave (thanks Dave!), which is the kind of guitar Elliot recorded the song on in the first place.
Resources:
Video Lesson: http://vanderbilly.com/play.aspx?id=8281&opTyp=
Tabs: http://tabs.ultimate-guitar.com/c/cars/my_best_friends_girl_ver2_tab.htm
Backing Track: Sorry, there isn't a good backing track for this song available. I had to scrounge it together from several sources and make my own. If you want a copy, send me an email.
Inspiration:
Here's a pretty cool DVD that I've heard good things about, with Elliot Easton himself teaching many of his iconic guitar parts: http://www.amazon.com/Guitars-Elliot-Easton-Essential-Collection/dp/0739040294/ref=sr_1_1